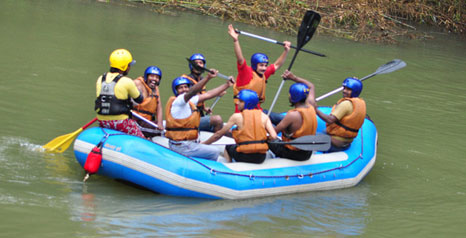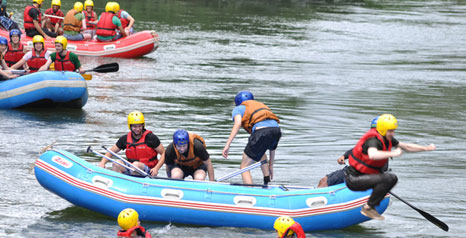 Why Raft With Us?
A rafting experience is one heck of experience if you are planning for a trip in Kodagu. Water rafting undertaken by Barapole creates a long lasting experience for family, groups and friends which happens to last long. Best time to visit is in monsoon from June to October.
Every time we take on barapole rafting, we proud ourselves in creating an environment which is adventures and exciting each time. The memories you create on Barapole water rafting will last for a lifetime. Each trip you undertake on our water rafting is affordable and mainly it is built for fun, quality and suits the budget of each one. Our pricing per head for water rafting will be Rs. 1,200.
We provide guided trips based on the vacation with us. Put a break for your everyday routine and join with us to make you vacation more exciting with Barapole water rafting.
Barapole Map Route:
For those people who are coming from Bangalore and Mysore side, the best route would be :
Bangalore –> Mysore –> Hunsur -> Nagarhole Forest ( Forest Route opens from 6am to 6pm, otherwise head to Gonikoppal ) –> Kutta –> Srimangala -> T.Shettigeri -> Tata Tea Estate -> KKR Junction – Barapole water Rafting.
For those people who are coming from Madikeri side, The best would be route to Balapole River (KKR) site:
Madikeri -> Virajpet(or Siddapura) -> Gonikoppal -> Ponnampet -> Hudikere -> T.Shettigeri ->Tata Tea Estate -> KKR Junction – Barapole Rafting Base.
Dress Code
Rafting is a sport that you enjoy while sitting down. So, you don't necessarily need to be in a tiptop shape. What actually counts is the adequate strength in you upper arm and the shoulder.
The suitable rafting gear includes wetsuit, nylon shorts and a hat.
Remember to carry dry bags to safely store some personal items that you might bring during the trip. However, it is advised that you avoid carrying things like wallet, car keys and mobile phones on a rafting expedition.
You are also advised to dress in layers, so that you don't face any difficulties adding or removing articles. Remember to dress up in synthetic materials including wool and polyester. This will keep your body warm during the river rafting trip.
Our Location:
Barapole ( KKR) - near Tata Tea Estate, T.Shettigeri.
Best time for Rafting - Monsoon Season June 15th to October 16th