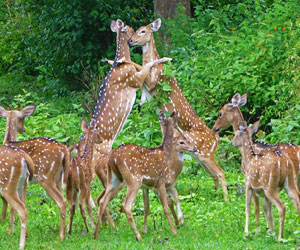 Wayanad Wildlife Sanctuary
Wayanad Wildlife Sanctuary is situated at a separation of around 84 km from water rafting. Wayanad is known as a standout amongst the most wonderful retreats of Kerala. Wayanad with its beautiful magnificence, rich natural resources, rocks and valley, one of a kind landscape, atmosphere and so forth give provide a lot for catering to the demands of expanding visitors. Wayanad gives degree to ecotourism tourism (wild life tourism), Recreational tourism, Recreational tourism, Adventure tourism, Heritage tourism, Historic tourism, Pilgrim tourism and so on.
Nagarahole National Park
Nagarahole National Stop is situated at a separation of around 27 km from Barapole water rafting. The Nagarahole National Stop is the best place for you to precisely know where the wild really dwell. A visit to the park can be an astounding knowledge, one that you won't overlook for quite a while in your life. A hunting reserve of the former rulers of Mysore is Nagarhole. It is a house for many wild animals like Leopard, Wild Dog, Gaur, Sambar, Chital and Barking Deer.
Nagarhole birdlife has Malabar Trogon, Indian Great Black Woodpecker, Blyh's Baza, Crested Serpent Eagles, Osprey,Peregrine Falcon, Scarlet Minivets, Blackheaded Cuckoo Shrikes, various species of Barbets, Owls, Cuckoos, Flycatchers, etc. are being recorded here.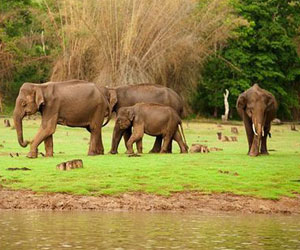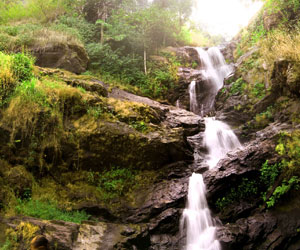 Iruppu Falls
Iruppu water falls is situated at a separation of around 9 km from barapole water rafting. The Iruppu waterfall is suurounded by lavish green Western Ghats. The thundering waters of the Iruppu falls and the pleasant environment make it a most loved picnic spot. Iruppu Falls introduces a brilliant view amid the storm. Originated in the elevated Brahmagiri crests, the falls dive 170 ft in two unique stages. Iruppu falls later turn into a piece of the Lakshmana Teertha River. Consequently, this waterfall is otherwise called Lakshmana Teertha falls.
TaTa Tea Estate
TaTa Tea Estate is found exceptionally close to barapole water rafting. In the midst of the bounty of coffee estates homes in Coorg, a solitary tea estate emerges in delightful quality at Hudikeri close to Gonikippa. Giving clearing perspectives of the tea gardens and the hiles.
The tea gardens are spread over around 1,200 acres of land and in that capacity can yield unlimited hours of walking in the midst of such rich greenery combined with fresh mountain air and silence broken by such winged animals as the Malabar whistling thrush, drongos and Malabar hornbill. The home has a bundle of bikes and visitors are urged to go cycling inside the property. A twisting street from the home through the ranch went through hamlets and leads to a stream called Barapole, where the water rafting is led when the flow is brisk. Best place to do nothing and let the perspectives, the air and the tranquility unwind revive both the body and the spirit.